Fall is finally here!  Time to enjoy the cooler weather, fall festivals and super spooky books and movies.  This is the perfect time to curl up on the couch with a comfy quilt, a good book and hot chocolate.
Here's my October TBR list:
---
"A burning vengeance.
Adrian sul'Han, known as Ash, is a trained healer with a powerful gift of magic—and a thirst for revenge. The son of the queen of the Fells, Ash is forced into hiding after a series of murders throws the queendom into chaos. Now Ash is closer than he's ever been to killing the man responsible, the cruel king of Arden. As a healer, can Ash use his powers not to save a life but to take it?
A blood-based curse.
Abandoned at birth, Jenna Bandelow was told the mysterious magemark on the back of her neck would make her a target. But when the King's Guard launches a relentless search for a girl with a mark like hers, Jenna assumes that it has more to do with her role as a saboteur than any birth-based curse. Though Jenna doesn't know why she's being hunted, she knows that she can't get caught.
Destiny's fiery hand.
Eventually, Ash's and Jenna's paths will collide in Arden. Thrown together by chance and joined by their hatred of the king, they will come to rescue each other in ways they cannot yet imagine.
Set in the world of the acclaimed Seven Realms series a generation later, this is a thrilling story of dark magic, chilling threats, and two unforgettable characters walking a knife-sharp line between life and death." ~Goodreads
~~~~
I have loved all of the books I have read by Cinda Williams Chima.  The Seven Realms series has been my favorite so far.  I am excited to have a new series by her to read.
---
"Fate and fortune. Power and passion. What does it take to be the queen of a kingdom when you're only seventeen?
Maya is cursed. With a horoscope that promises a marriage of death and destruction, she has earned only the scorn and fear of her father's kingdom. Content to follow more scholarly pursuits, her whole world is torn apart when her father, the Raja, arranges a wedding of political convenience to quell outside rebellions. Soon Maya becomes the queen of Akaran and wife of Amar. Neither roles are what she expected: As Akaran's queen, she finds her voice and power. As Amar's wife, she finds something else entirely: Compassion. Protection. Desire…
But Akaran has its own secrets—thousands of locked doors, gardens of glass, and a tree that bears memories instead of fruit. Soon, Maya suspects her life is in danger. Yet who, besides her husband, can she trust? With the fate of the human and Otherworldly realms hanging in the balance, Maya must unravel an ancient mystery that spans reincarnated lives to save those she loves the most…including herself."~Goodreads
~~~~
I picked up A Crown of Wishes last month before realizing that it is the second book in the series.  Can't wait to get started with this one.
---
"Words can kill.
Hoarding all the knowledge of the world, the Great Library jealously guards its secrets. But now a group of rebels poses a dangerous threat to its tyranny…
Jess Brightwell and his band of exiles have fled London, only to find themselves imprisoned in Philadelphia, a city led by those who would rather burn books than submit. But Jess and his friends have a bargaining chip: the knowledge to build a machine that will break the Library's rule.
Their time is running out. To survive, they'll have to choose to live or die as one, to take the fight to their enemies—and to save the very soul of the Great Library…" ~Goodreads
~~~~
Great cover and discription.  This was a spur of the moment pick.
---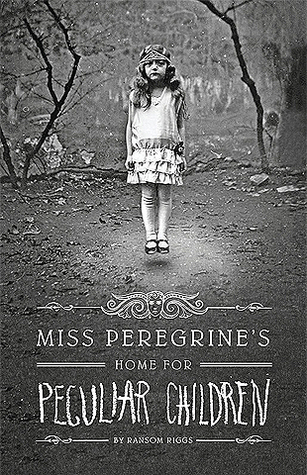 "A mysterious island. An abandoned orphanage. A strange collection of curious photographs.
A horrific family tragedy sets sixteen-year-old Jacob journeying to a remote island off the coast of Wales, where he discovers the crumbling ruins of Miss Peregrine's Home for Peculiar Children. As Jacob explores its abandoned bedrooms and hallways, it becomes clear that the children were more than just peculiar. They may have been dangerous. They may have been quarantined on a deserted island for good reason. And somehow—impossible though it seems—they may still be alive.
A spine-tingling fantasy illustrated with haunting vintage photography, Miss Peregrine's Home for Peculiar Children will delight adults, teens, and anyone who relishes an adventure in the shadows."~Goodreads
~~~~
Picked this up to read with Forgotten YA Gems -Goodreads Book Club.
---
"To the children, the town was their whole world. To the adults, knowing better, Derry, Maine was just their home town: familiar, well-ordered for the most part. A good place to live.
It was the children who saw – and felt – what made Derry so horribly different. In the storm drains, in the sewers, IT lurked, taking on the shape of every nightmare, each one's deepest dread. Sometimes IT reached up, seizing, tearing, killing . . .
The adults, knowing better, knew nothing.
Time passed and the children grew up, moved away. The horror of IT was deep-buried, wrapped in forgetfulness. Until they were called back, once more to confront IT as IT stirred and coiled in the sullen depths of their memories, reaching up again to make their past nightmares a terrible present reality."~Goodreads
~~~~
A must-read since the recent movie release.  
---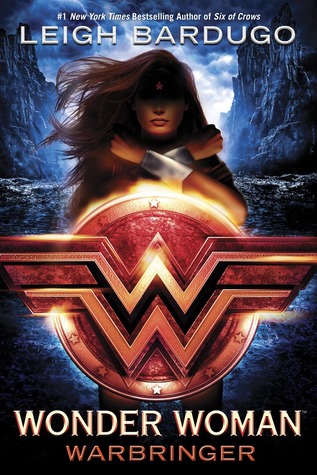 "Daughter of immortals.
Princess Diana longs to prove herself to her legendary warrior sisters. But when the opportunity finally comes, she throws away her chance at glory and breaks Amazon law—risking exile—to save a mortal. Diana will soon learn that she has rescued no ordinary girl, and that with this single brave act, she may have doomed the world.
Daughter of death.
Alia Keralis just wanted to escape her overprotective brother with a semester at sea. She doesn't know she is being hunted by people who think her very existence could spark a world war. When a bomb detonates aboard her ship, Alia is rescued by a mysterious girl of extraordinary strength and forced to confront a horrible truth: Alia is a Warbringer—a direct descendant of the infamous Helen of Troy, fated to bring about an age of bloodshed and misery.
Together.
Two girls will face an army of enemies—mortal and divine—determined to either destroy or possess the Warbringer. Tested beyond the bounds of their abilities, Diana and Alia must find a way to unleash hidden strengths and forge an unlikely alliance. Because if they have any hope of saving both their worlds, they will have to stand side by side against the tide of war."~Goodreads
~~~~
This book is everywhere right now.  As the mother of a superhero fanatic, I can't wait to read about a female superhero!
---
"So what if 12-year-old Jack's great-great-great-great-great aunt has oddly youthful looks? (Probably cosmetic surgery.) Or a hat she never removes? (Fashion victim.) Or goes out into the creepy forest at midnight to play bingo? (Must be what people do in the country.) Who cares about that when her cottage doesn't even have Wi-Fi?! Forced to visit his distant relative with the unusual name of Gretel, Jack is about to find out that fairy tales aren't sparkly, cheesy love stories. They're dark. They have claws. They're a warning. And when you're the unwilling hero of your own fairy tale, you might be the one who's taught a nasty lesson."~Netgalley
~~~~
Hope to read this with the kids for some spooky family fun.
---
"The magical adventure begun in The Bear and the Nightingalecontinues as brave Vasya, now a young woman, is forced to choose between marriage or life in a convent and instead flees her home—but soon finds herself called upon to help defend the city of Moscow when it comes under siege.
Orphaned and cast out as a witch by her village, Vasya's options are few: resign herself to life in a convent, or allow her older sister to make her a match with a Moscovite prince. Both doom her to life in a tower, cut off from the vast world she longs to explore. So instead she chooses adventure, disguising herself as a boy and riding her horse into the woods. When a battle with some bandits who have been terrorizing the countryside earns her the admiration of the Grand Prince of Moscow, she must carefully guard the secret of her gender to remain in his good graces—even as she realizes his kingdom is under threat from mysterious forces only she will be able to stop."~Netgalley
~~~~
Loved the cover!
---
"When hydrologists inscribe the consciousness of a human mind onto a single drop of water, a Revelation sweeps the land. The wealthy race to upload their minds into self-contained virtual realities nicknamed Aquariums. In these containers people achieve every hope, dream, and desire. But governments wage war for control of the technology. Terrorist attacks cause massive destruction. The Aquariums fail.  Inscribed human minds leech into the water cycle, wreaking havoc.
Street gangs rule the cities in the three years since the fall of civilization. Sixteen-year-old Cami and her younger sister Alby struggle to survive. Every drop of untreated water puts their lives in peril. Caught and imprisoned by soldiers who plan to sell them into slavery, Cami will do anything to escape and rescue her sister. Even if it means leaving the real word for a life in the realms, a new game-like reality created by the hydrologists for the chosen few.
But life in the realms isn't as simple as it seems. Magic, combat, gear scores, quests, and dungeons are all puzzles to be solved as the sisters navigate their new surroundings. And they encounter more dangerous enemies than any they faced in the real world.
Time to play the game."~Netgalley
~~~~
If this doesn't sound like a creepy fall read I don't what does!
---
"Nicky has freckles: they cover his face, his ears, and the whole back of his neck. Sitting behind him in class, Andrew once counted eighty-six of them, and that was just a start! If Andrew had freckles like Nicky, his mother would never know if his neck was dirty.
One day after school, Andrew works up enough courage to ask Nicky where he got his freckles. When know-it-all Sharon overhears, she offers Andrew her secret freckle juice recipe for fifty cents. It's a lot of money, but Andrew is desperate. At home he carefully mixes the strange combination of ingredients. Then the unexpected happens… "~Goodreads
~~~~
Read this as a little girl and wanted to share with my kids.  Hope they love it as much as I did when I was little.
---
Have you read any of these books?  What did you think of them? What books are you planning to read this month?