Good Morning all. I hope you all have wonderful plans for the weekend – whether it be spending time with loved ones or staying in with a good book or anything in between.  Thank you for stopping by to check out my TBR #6.  As always, let me know if you have read any of these.  I'd love to hear your thoughts!
This is Down the TBR Hole from Lost in a Story and I snagged it from Howling Libraries.
It works like this:
Go to your goodreads to-read shelf.
Order on ascending date added.
Take the first 5 (or 10 if you're feeling adventurous) books
Read the synopses of the books
Decide: keep it or should it go?
Keep track of where you left off so you can pick up there next week!
Current "to-read" shelf:   106 titles
Book 1:
A stunning new novel from the number-one New York Timesbest-selling author – an epic of hope and horror, chaos and magic, and a journey that will unite a desperate group of people to fight the battle of their lives…
It began on New Year's Eve.
The sickness came on suddenly, and spread quickly. The fear spread even faster. Within weeks, everything people counted on began to fail them. The electrical grid sputtered; law and government collapsed—and more than half of the world's population was decimated.
Where there had been order, there was now chaos. And as the power of science and technology receded, magic rose up in its place. Some of it is good, like the witchcraft worked by Lana Bingham, practicing in the loft apartment she shares with her lover, Max. Some of it is unimaginably evil, and it can lurk anywhere, around a corner, in fetid tunnels beneath the river—or in the ones you know and love the most.
As word spreads that neither the immune nor the gifted are safe from the authorities who patrol the ravaged streets, and with nothing left to count on but each other, Lana and Max make their way out of a wrecked New York City. At the same time, other travelers are heading west too, into a new frontier. Chuck, a tech genius trying to hack his way through a world gone offline. Arlys, a journalist who has lost her audience but uses pen and paper to record the truth. Fred, her young colleague, possessed of burgeoning abilities and an optimism that seems out of place in this bleak landscape. And Rachel and Jonah, a resourceful doctor and a paramedic who fend off despair with their determination to keep a young mother and three infants in their care alive.
In a world of survivors where every stranger encountered could be either a savage or a savior, none of them knows exactly where they are heading, or why. But a purpose awaits them that will shape their lives and the lives of all those who remain.
The end has come. The beginning comes next.
Date added to shelf:  September 1, 2017
The judgement:  Keep.
Book 2:
From New York Times bestseller Angie Fox, the second book in the new Southern Ghost Hunter mysteries
A haunted library is no place for a girl who can see ghosts, but when Verity Long stumbles on a dead body in the middle of the main reading room, she has to believe someone…even a dead someone…must have witnessed the crime.
Her ghostly sidekick Frankie warns her to stay out of it. The very alive, very handsome deputy sheriff, Ellis Wydell, inadvertently places her directly in the middle of it. And her ex-fiancé, Ellis's brother, is back with an agenda of his own.
Undaunted, Verity presses forward, uncovering scandalous secrets, long-forgotten ghosts, and a shocking trail of clues that places her directly in the path of a killer.
Date added to shelf:  September 1, 2017
The judgement:  Keep
Book 3:
Frozen meets The Bloody Chamber in this feminist fantasy reimagining of the Snow White fairytale
At sixteen, Mina's mother is dead, her magician father is vicious, and her silent heart has never beat with love for anyone—has never beat at all, in fact, but she'd always thought that fact normal. She never guessed that her father cut out her heart and replaced it with one of glass. When she moves to Whitespring Castle and sees its king for the first time, Mina forms a plan: win the king's heart with her beauty, become queen, and finally know love. The only catch is that she'll have to become a stepmother.
Fifteen-year-old Lynet looks just like her late mother, and one day she discovers why: a magician created her out of snow in the dead queen's image, at her father's order. But despite being the dead queen made flesh, Lynet would rather be like her fierce and regal stepmother, Mina. She gets her wish when her father makes Lynet queen of the southern territories, displacing Mina. Now Mina is starting to look at Lynet with something like hatred, and Lynet must decide what to do—and who to be—to win back the only mother she's ever known…or else defeat her once and for all.
Entwining the stories of both Lynet and Mina in the past and present, Girls Made of Snow and Glass traces the relationship of two young women doomed to be rivals from the start. Only one can win all, while the other must lose everything—unless both can find a way to reshape themselves and their story.
Date added to shelf:  September 2, 2017
The judgement:  Keep
Book 4:
WHAT IF YOU CAN ENTER A MADMAN'S CRUEL MIND AS HE PLANS HIS VICIOUS CRIMES? WHAT IF YOU CAN SEE THE TERRIFIED FACE OF HIS PREY AS HE MOVES IN FOR THE KILL – BUT YOU CAN'T STOP HIS FRENZY ONCE HE STRIKES?
Psychic Cassie Neill helps the L.A. police catch killers – until she makes a terrible mistake and an innocent child dies. Cassie flees to a small North Carolina town, hoping that a quiet life will silence the voices that invade her unwilling mind. But Cassie's abilities know few boundaries. And she's become certain – as no one else can be – that a murderer is stalking Ryan's Bluff.
It's his fury that Cassie senses first, then his foul thoughts and perverse excitement. Yet she doesn't know who he is or where he will strike. The sheriff won't even listen to her – until the first body is found exactly where and how she predicted. Now a suspect herself, she races desperately to unmask the killer in the only way she knows: by entering his twisted mind. Her every step is loaded with fear and uncertainty… because if he senses her within him, he'll trap her there, so deep she'll never find her way out.
Date added to shelf:  September 2, 2017
The judgement:  Keep
Book 5: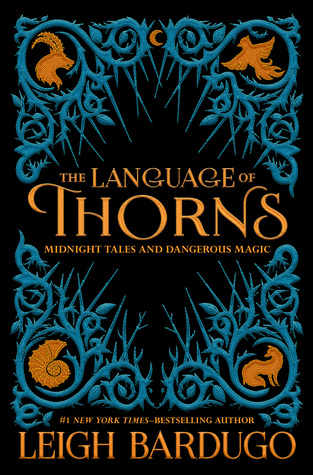 Love speaks in flowers. Truth requires thorns.
Travel to a world of dark bargains struck by moonlight, of haunted towns and hungry woods, of talking beasts and gingerbread golems, where a young mermaid's voice can summon deadly storms and where a river might do a lovestruck boy's bidding but only for a terrible price.
Inspired by myth, fairy tale, and folklore, #1 New York Times–bestselling author Leigh Bardugo has crafted a deliciously atmospheric collection of short stories filled with betrayals, revenge, sacrifice, and love.
Perfect for new readers and dedicated fans, these tales will transport you to lands both familiar and strange—to a fully realized world of dangerous magic that millions have visited through the novels of the Grishaverse.
This collection of six stories includes three brand-new tales, all of them lavishly illustrated with art that changes with each turn of the page, culminating in six stunning full-spread illustrations as rich in detail as the stories themselves.
Date added to shelf:  September 4, 2017
The judgement:  Keep
I just couldn't get rid of any of these.
Mama said there'd be days like this.
Have you read any of these? 
Are they on your TBR?