~~~~1~~~~
The Watchmaker's Daughter 
by C. J. Archer
Source:  Amazon – personal kindle library
India Steele is desperate. Her father is dead, her fiancé took her inheritance, and no one will employ her, despite years working for her watchmaker father. Indeed, the other London watchmakers seem frightened of her. Alone, poor, and at the end of her tether, India takes employment with the only person who'll accept her – an enigmatic and mysterious man from America. A man who possesses a strange watch that rejuvenates him when he's ill.
Matthew Glass must find a particular watchmaker, but he won't tell India why any old one won't do. Nor will he tell her what he does back home, and how he can afford to stay in a house in one of London's best streets. So when she reads about an American outlaw known as the Dark Rider arriving in England, she suspects Mr. Glass is the fugitive. When danger comes to their door, she's certain of it. But if she notifies the authorities, she'll find herself unemployed and homeless again – and she will have betrayed the man who saved her life.
---
~~~~2~~~~
Warcross
by Marie Lu
Source:  Library
For the millions who log in every day, Warcross isn't just a game—it's a way of life. The obsession started ten years ago and its fan base now spans the globe, some eager to escape from reality and others hoping to make a profit. Struggling to make ends meet, teenage hacker Emika Chen works as a bounty hunter, tracking down players who bet on the game illegally. But the bounty hunting world is a competitive one, and survival has not been easy. Needing to make some quick cash, Emika takes a risk and hacks into the opening game of the international Warcross Championships—only to accidentally glitch herself into the action and become an overnight sensation.
Convinced she's going to be arrested, Emika is shocked when instead she gets a call from the game's creator, the elusive young billionaire Hideo Tanaka, with an irresistible offer. He needs a spy on the inside of this year's tournament in order to uncover a security problem . . . and he wants Emika for the job. With no time to lose, Emika's whisked off to Tokyo and thrust into a world of fame and fortune that she's only dreamed of. But soon her investigation uncovers a sinister plot, with major consequences for the entire Warcross empire.
---
~~~~3~~~~
The Girl in the Tower
by Katherine Arden
Source:  Netgalley
The magical adventure begun in The Bear and the Nightingalecontinues as brave Vasya, now a young woman, is forced to choose between marriage or life in a convent and instead flees her home—but soon finds herself called upon to help defend the city of Moscow when it comes under siege.
Orphaned and cast out as a witch by her village, Vasya's options are few: resign herself to life in a convent, or allow her older sister to make her a match with a Moscovite prince. Both doom her to life in a tower, cut off from the vast world she longs to explore. So instead she chooses adventure, disguising herself as a boy and riding her horse into the woods. When a battle with some bandits who have been terrorizing the countryside earns her the admiration of the Grand Prince of Moscow, she must carefully guard the secret of her gender to remain in his good graces—even as she realizes his kingdom is under threat from mysterious forces only she will be able to stop.
---
~~~~4~~~~
Shimmer and Burn
by Mary Taranta
Source:  Library
To save her sister's life, Faris must smuggle magic into a plague-ridden neighboring kingdom in this exciting and dangerous start to a brand-new fantasy duology.
Faris grew up fighting to survive in the slums of Brindaigel while caring for her sister, Cadence. But when Cadence is caught trying to flee the kingdom and is sold into slavery, Faris reluctantly agrees to a lucrative scheme to buy her back, inadvertently binding herself to the power-hungry Princess Bryn, who wants to steal her father's throne.
Now Faris must smuggle stolen magic into neighboring Avinea to incite its prince to alliance—magic that addicts in the war-torn country can sense in her blood and can steal with a touch. She and Bryn turn to a handsome traveling magician, North, who offers protection from Avinea's many dangers, but he cannot save Faris from Bryn's cruelty as she leverages Cadence's freedom to force Faris to do anything—or kill anyone—she asks. Yet Faris is as fierce as Bryn, and even as she finds herself falling for North, she develops schemes of her own.
With the fate of kingdoms at stake, Faris, Bryn, and North maneuver through a dangerous game of magical and political machinations, where lives can be destroyed—or saved—with only a touch.
---
~~~~5~~~~
Court of Twilight
by Mareth Griffith
Source:  Netgalley
Six months ago, Ivy stumbled into the deal of a lifetime – great rent in a posh Dublin neighborhood and a flatmate, Demi, who was only a little weird. It didn't matter that their flat is packed with exotic plants or that her flatmate does all her shopping on-line but refuses to meet the delivery man at the door?
Now, though, Demi's gone missing, there are strange men hiding in the flower boxes, and a lot of strangers have suddenly taken interest in the whereabouts of her peculiar flatmate. When the police won't help, Ivy knows she's going to have to solve this mystery on her own.
Ivy dives headfirst into a secret Dublin, hidden in plain sight, and discovers that the longer she stays in, the more she risks losing the world she always knew. Can she save Demi without losing herself?
---
~~~~6~~~~
Six of Crows
by Leigh Bardugo
Source:  Library
Criminal prodigy Kaz Brekker has been offered wealth beyond his wildest dreams. But to claim it, he'll have to pull off a seemingly impossible heist:
Break into the notorious Ice Court
(a military stronghold that has never been breached)
Retrieve a hostage
(who could unleash magical havoc on the world)
Survive long enough to collect his reward
(and spend it)
Kaz needs a crew desperate enough to take on this suicide mission and dangerous enough to get the job done – and he knows exactly who: six of the deadliest outcasts the city has to offer. Together, they just might be unstoppable – if they don't kill each other first.
---
~~~~7~~~~
Invictus
by Ryan Graudin
Source:  Library
Time flies when you're plundering history.
Farway Gaius McCarthy was born outside of time. The son of a time-traveling Recorder from 2354 AD and a gladiator living in Rome in 95 AD, Far's birth defies the laws of nature. Exploring history himself is all he's ever wanted, and after failing his final time-traveling exam, Far takes a position commanding a ship with a crew of his friends as part of a black market operation to steal valuables from the past.
But during a heist on the sinking Titanic, Far meets a mysterious girl who always seems to be one step ahead of him. Armed with knowledge that will bring Far's very existence into question, she will lead Far and his team on a race through time to discover a frightening truth: History is not as steady as it seems.
---
~~~~8~~~~
Missing
by Kelley Armstrong
Source:  Library
The only thing Winter Crane likes about Reeve's End is that soon she'll leave it. Like her best friend did. Like her sister did. Like most of the teens born in town have done. There's nothing for them there but abandoned mines and empty futures. They're better off taking a chance elsewhere.
The only thing Winter will miss is the woods. Her only refuge. At least it was. Until the day she found Lennon left for dead, bleeding in a tree.
But now Lennon is gone too. And he has Winter questioning what she once thought was true. What if nobody left at all? What if they're all missing?
---
~~~~9~~~~
The Secret Life of Mrs. London
by Rebecca Rosenberg
Source:  Netgalley
San Francisco, 1915. As America teeters on the brink of world war, Charmian and her husband, famed novelist Jack London, wrestle with genius and desire, politics and marital competitiveness. Charmian longs to be viewed as an equal partner who put her own career on hold to support her husband, but Jack doesn't see it that way…until Charmian is pulled from the audience during a magic show by escape artist Harry Houdini, a man enmeshed in his own complicated marriage. Suddenly, charmed by the attention Houdini pays her and entranced by his sexual magnetism, Charmian's eyes open to a world of possibilities that could be her escape.
As Charmian grapples with her urge to explore the forbidden, Jack's increasingly reckless behavior threatens her dedication. Now torn between two of history's most mysterious and charismatic figures, she must find the courage to forge her own path, even as she fears the loss of everything she holds dear.
---
~~~~10~~~~
Divergent
by Veronica Roth
Source:  Library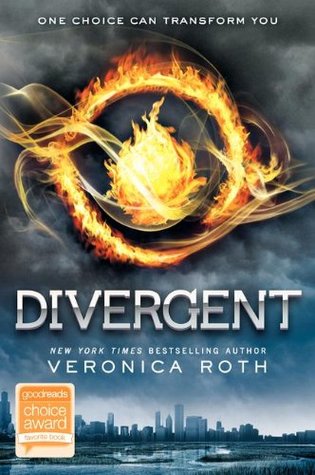 In Beatrice Prior's dystopian Chicago world, society is divided into five factions, each dedicated to the cultivation of a particular virtue—Candor (the honest), Abnegation (the selfless), Dauntless (the brave), Amity (the peaceful), and Erudite (the intelligent). On an appointed day of every year, all sixteen-year-olds must select the faction to which they will devote the rest of their lives. For Beatrice, the decision is between staying with her family and being who she really is—she can't have both. So she makes a choice that surprises everyone, including herself.
During the highly competitive initiation that follows, Beatrice renames herself Tris and struggles alongside her fellow initiates to live out the choice they have made. Together they must undergo extreme physical tests of endurance and intense psychological simulations, some with devastating consequences. As initiation transforms them all, Tris must determine who her friends really are—and where, exactly, a romance with a sometimes fascinating, sometimes exasperating boy fits into the life she's chosen. But Tris also has a secret, one she's kept hidden from everyone because she's been warned it can mean death. And as she discovers unrest and growing conflict that threaten to unravel her seemingly perfect society, she also learns that her secret might help her save those she loves . . . or it might destroy her.
---
~~~~11~~~~
Unquiet Dead
by Chris Pavesic
Source:  Netgalley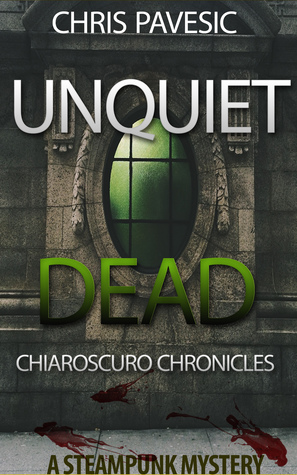 In Chiaroscuro it's important to keep the faith.
When the Temples north of Chiaroscuro are burned and followers of the Sun Goddess are murdered, Catherine, a bard of the Ealdoth Temple, sets out to find those responsible and to bring them to justice. With only the help of a traveling group of minstrels and a retired fae investigator, Catherine must solve the mystery before more people are killed.
So saddle up your clockwork mount, buckle on your electro-dagger, and join Catherine as she finds herself pitted against members of her own Temple, rogue members of the Seelie Court, and a seemingly unstoppable army of undead.
---
Are you planning to read any of these?