Good morning!  Hope you all had a wonderful weekend.  
Flavia the Bibliophile and be sure to check out all the other great stuff on her blog.  So here we go with #ARCstravaganza #5.
~~~My ARC Choice~~~
Unquiet Dead
by Chris Pavesic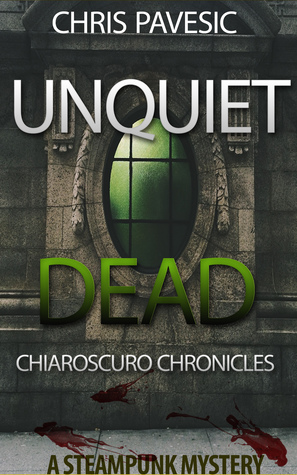 ~~~About the Book~~~
Title:  Unquiet Dead
Author:  Chris Pavesic
Type:  Fiction
Genre:  Sci-Fi, Fantasy
Publisher:  Independent Book Publishers Association 
Published:  March 5, 2018
Format:  Digital
Source:  Netgalley
In Chiaroscuro it's important to keep the faith.
When the Temples north of Chiaroscuro are burned and followers of the Sun Goddess are murdered, Catherine, a bard of the Ealdoth Temple, sets out to find those responsible and to bring them to justice. With only the help of a traveling group of minstrels and a retired fae investigator, Catherine must solve the mystery before more people are killed.
So saddle up your clockwork mount, buckle on your electro-dagger, and join Catherine as she finds herself pitted against members of her own Temple, rogue members of the Seelie Court, and a seemingly unstoppable army of undead.
---
THANKS SO MUCH FOR STOPPING BY.
WOULD YOU READ THIS BOOK?
LET ME KNOW IN THE COMMENTS BELOW.