Description from Goodreads:
Criminal prodigy Kaz Brekker has been offered wealth beyond his wildest dreams. But to claim it, he'll have to pull off a seemingly impossible heist:
Break into the notorious Ice Court
(a military stronghold that has never been breached)
Retrieve a hostage
(who could unleash magical havoc on the world)
Survive long enough to collect his reward
(and spend it)
Kaz needs a crew desperate enough to take on this suicide mission and dangerous enough to get the job done – and he knows exactly who: six of the deadliest outcasts the city has to offer. Together, they just might be unstoppable – if they don't kill each other first.
Review:
Six of Crows by Leigh Bardugo has 462 pages and was published by Henry Holt and Company in 2015.
Six of Crows is an intriguing title.  The cover of this book is gorgeous and I am a sucker for a pretty cover.  In this case, the story within was even better.  The characters are wonderfully flawed in ways that make you empathize with their various situations.  The plot is fast-paced and action-packed.  The world-building is amazing.
This is a novel that would make an excellent movie, in my opinion.  I'm not sure if there is something in the works but I would definitely buy a ticket to see this on the big screen.
I would recommend this book to fans of fantasy and action/adventure.
About the Author:
"Leigh Bardugo is the #1 New York Times bestselling and USA Today bestselling author of the Six of Crows Duology and the Shadow and Bone Trilogy, as well as the upcoming Wonder Woman: Warbringer (Aug 2017) and The Language of Thorns (Sept 2017).
She was born in Jerusalem, grew up in Los Angeles, and graduated from Yale University. These days, she lives and writes in Hollywood where she can occasionally be heard singing with her band.
She would be delighted if you followed her on Twitter, elated if you visited her web site, and fairly giddy if you liked her selfies on Instagram." ~Goodreads
Rating:  4 Plot Monster Spiders
Notable Quotes:
"It's not natural for women to fight."
"It's not natural for someone to be as stupid as he is tall, and yet there you stand."
― Leigh Bardugo, Six of Crows
"When everyone knows you're a monster, you needn't waste time doing every monstrous thing."
― Leigh Bardugo, Six of Crows
Next in the series: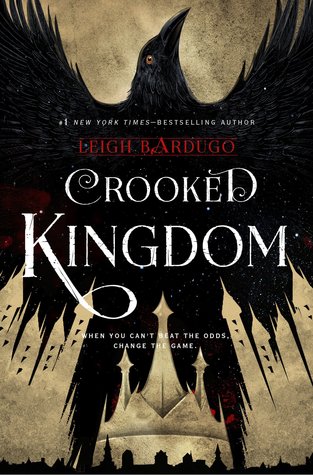 When you can't beat the odds, change the game.
Kaz Brekker and his crew have just pulled off a heist so daring even they didn't think they'd survive. But instead of divvying up a fat reward, they're right back to fighting for their lives. Double-crossed and badly weakened, the crew is low on resources, allies, and hope. As powerful forces from around the world descend on Ketterdam to root out the secrets of the dangerous drug known as jurda parem, old rivals and new enemies emerge to challenge Kaz's cunning and test the team's fragile loyalties. A war will be waged on the city's dark and twisting streets―a battle for revenge and redemption that will decide the fate of the Grisha world.
Have you read either of these books?  What did you think?
MDW original review.  Source:  Library.