Good Morning!  I hope you all have a great day of reading and reviewing ahead.
Thank you for stopping by to check out my TBR #11.  As always, let me know if you have read any of these.  I'd love to hear your thoughts!
This is Down the TBR Hole from Lost in a Story and I snagged it from Howling Libraries.
It works like this:
Go to your goodreads to-read shelf.
Order on ascending date added.
Take the first 5 (or 10 if you're feeling adventurous) books
Read the synopses of the books
Decide: keep it or should it go?
Keep track of where you left off so you can pick up there next week!
Current "to-read" shelf:   123 titles
---
Book 1:
A corrupted city. A dark dream of power.
Luke is a prisoner, condemned for a murder he didn't commit. Abi is a fugitive, desperate to free him before magic breaks his mind. But as the Jardines tighten their grip on a turbulent Britain, brother and sister face a fight greater than their own.
New alliances and old feuds will remake the nation, leaving Abi and Luke questioning everything – and everyone – they know. And as Silyen Jardine hungers for the forgotten Skill of the legendary Wonder King, the country's darkest hour approaches. Freedom and knowledge both come at a cost. So who will pay the price?
Date added to shelf:  October 23, 2017
The judgement: 
Keep.  Gilded Cage was one of my favorite books last year.  Can't wait to see what happens next.
---
Book 2: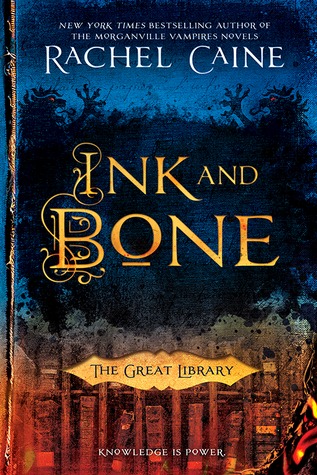 In an exhilarating new series, New York Times bestselling author Rachel Caine rewrites history, creating a dangerous world where the Great Library of Alexandria has survived the test of time.…
Ruthless and supremely powerful, the Great Library is now a presence in every major city, governing the flow of knowledge to the masses. Alchemy allows the Library to deliver the content of the greatest works of history instantly—but the personal ownership of books is expressly forbidden.
Jess Brightwell believes in the value of the Library, but the majority of his knowledge comes from illegal books obtained by his family, who are involved in the thriving black market. Jess has been sent to be his family's spy, but his loyalties are tested in the final months of his training to enter the Library's service.
When his friend inadvertently commits heresy by creating a device that could change the world, Jess discovers that those who control the Great Library believe that knowledge is more valuable than any human life—and soon both heretics and books will burn…
Date added to shelf:  October 24, 2017
The judgement: 
Keep.  I accidentally read the third book in this series first and really did not like it.  (Of course not, I had no idea what was going on.)  I really think if I read them in the order they are supposed to be read I will enjoy it more.  🙂
---
Book 3: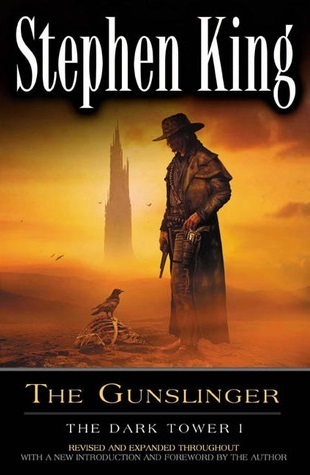 Set in a world of extraordinary circumstances, filled with stunning visual imagery and unforgettable characters, The Dark Tower series is King's most visionary feat of storytelling, a magical mix of science fiction, fantasy, and horror that may well be his crowning achievement.
In The Gunslinger (originally published in 1982), King introduces his most enigmatic hero, Roland Deschain of Gilead, the Last Gunslinger. He is a haunting, solitary figure at first, on a mysterious quest through a desolate world that eerily mirrors our own. Pursuing the man in black, an evil being who can bring the dead back to life, Roland is a good man who seems to leave nothing but death in his wake.
This new edition of The Gunslinger has been revised and expanded throughout by King, with new story material, in addition to a new introduction and foreword. It also includes four full-color illustrations in the hardcover and trade paperback formats.
Date added to shelf:  October 29, 2017
The judgement: 
Keep.  I don't know when I will get around to starting it but I definitely want to read it at some point.
---
Book 4: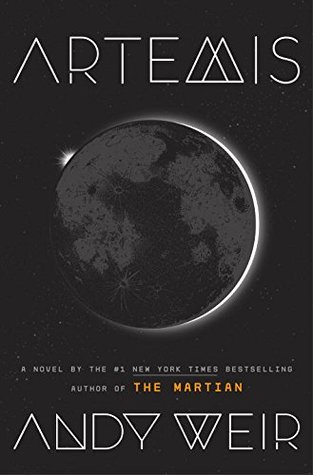 Jazz Bashara is a criminal.
Well, sort of. Life on Artemis, the first and only city on the moon, is tough if you're not a rich tourist or an eccentric billionaire. So smuggling in the occasional harmless bit of contraband barely counts, right? Not when you've got debts to pay and your job as a porter barely covers the rent.
Everything changes when Jazz sees the chance to commit the perfect crime, with a reward too lucrative to turn down. But pulling off the impossible is just the start of her problems, as she learns that she's stepped square into a conspiracy for control of Artemis itself—and that now, her only chance at survival lies in a gambit even riskier than the first.
Date added to shelf:  November 8, 2017
The judgement: 
Keep.  Hoping to review in March.
---
Book 5:
It takes a guilty bastard to make a justified bitch.
When a severed finger shows up on her doorstep in a seedy section of Las Vegas, Helen Taylor does not freak out. She's already crazy, as evidenced by her junk-stuffed house and its ever-growing population of cats. There's also Bobby, her long-dead husband. Helen talks to him regularly, and Bobby talks back.
The finger and the brutal murder it reveals are more than a hoarding cat lady with a phantom husband can ignore. Helen's a suspect, and she ends up in jail. Summoned by the detective on the case, Helen's sister Pat arrives from Phoenix with two teen-age boys in tow.
While Helen is AWOL from a mental facility, another gruesome murder is discovered. Pat, the boys, and the detective struggle to separate fact from insanity, but it takes power beyond the ordinary to bring the truth to light.
Date added to shelf:  November 19, 2017
The judgement: 
Bye Bye!
---
I managed to get rid of one this week. 
That is an improvement over last week.
Have you read any of these? 
Are they on your TBR?