Good morning!  Welcome to WWW Wednesday! This meme is hosted by Sam @ Taking On A World of Words.  Just answer the three questions below and if you have a chance, visit his blog and leave a comment with a link to your WWW.
The Three Ws are:
What are you currently reading?
What did you recently finish reading?
What do you think you'll read next?
---
What are you currently reading?
In the magical underworld of Victorian London, Tessa Gray has at last found safety with the Shadowhunters. But that safety proves fleeting when rogue forces in the Clave plot to see her protector, Charlotte, replaced as head of the Institute. If Charlotte loses her position, Tessa will be out on the street—and easy prey for the mysterious Magister, who wants to use Tessa's powers for his own dark ends.
With the help of the handsome, self-destructive Will and the fiercely devoted Jem, Tessa discovers that the Magister's war on the Shadowhunters is deeply personal. He blames them for a long-ago tragedy that shattered his life. To unravel the secrets of the past, the trio journeys from mist-shrouded Yorkshire to a manor house that holds untold horrors, from the slums of London to an enchanted ballroom where Tessa discovers that the truth of her parentage is more sinister than she had imagined. When they encounter a clockwork demon bearing a warning for Will, they realize that the Magister himself knows their every move—and that one of their own has betrayed them.
Tessa finds her heart drawn more and more to Jem, but her longing for Will, despite his dark moods, continues to unsettle her. But something is changing in Will—the wall he has built around himself is crumbling. Could finding the Magister free Will from his secrets and give Tessa the answers about who she is and what she was born to do?
As their dangerous search for the Magister and the truth leads the friends into peril, Tessa learns that when love and lies are mixed, they can corrupt even the purest heart.
---
What did you recently finish reading?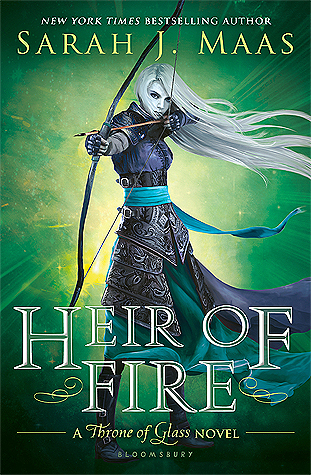 Celaena has survived deadly contests and shattering heartbreak―but at an unspeakable cost. Now, she must travel to a new land to confront her darkest truth . . . a truth about her heritage that could change her life―and her future―forever. Meanwhile, brutal and monstrous forces are gathering on the horizon, intent on enslaving her world. Will Celaena find the strength to not only fight her inner demons, but to take on the evil that is about to be unleashed?
The bestselling series that has captured readers all over the world reaches new heights in this sequel to the New York Timesbest-selling Crown of Midnight. Packed with heart-pounding action, fierce new characters, and swoon-worthy romance, this third book will enthrall readers from start to finish.
---
What do you think you'll read next?
When Laurie Moran's husband was brutally murdered, only three-year-old Timmy saw the face of his father's killer. Five years later his piercing blue eyes still haunt Timmy's dreams. Laurie is haunted by more: the killer's threat to her son as he fled the scene: Tell your mother she's next, then it's your turn . .
Now Laurie is dealing with murder again, this time as the producer of a true-crime, cold-case television show. The series will launch with the twenty-year-old unsolved murder of Betsy Powell. Betsy, a socialite, was found suffocated in her bed after a gala celebrating the graduation of her daughter and three friends. The sensational murder was news nationwide. Reopening the case in its lavish setting and with the cooperation of the surviving guests that night, Laurie is sure to have a hit on her hands. But when the estranged friends begin filming, it becomes clear each is hiding secrets . . . small and large.
And a pair of blue eyes is watching events unfold, too . . .
---
What are your 3 W's? 
Let me know in the comments.