Good Morning!  Thank you for stopping by to check out my TBR #17.  As always, let me know if you have read any of these.  I'd love to hear your thoughts!
This is Down the TBR Hole from Lost in a Story and I snagged it from Howling Libraries.
It works like this:
Go to your goodreads to-read shelf.
Order on ascending date added.
Take the first 5 (or 10 if you're feeling adventurous) books
Read the synopses of the books
Decide: keep it or should it go?
Keep track of where you left off so you can pick up there next week!
Current "to-read" shelf:    144 titles
---
Book 1:
Nineteen-year-old Elias is a royal explorer, a skilled mapmaker, and the new king of del Mar's oldest friend. Soon he will embark on the adventure of a lifetime, an expedition past the Strait of Cain and into uncharted waters. Nothing stands in his way…until a long-ago tragedy creeps back into the light, threatening all he holds dear.
The people of St. John del Mar have never recovered from the loss of their boy princes, kidnapped eighteen years ago, both presumed dead. But when two maps surface, each bearing the same hidden riddle, troubling questions arise. What really happened to the young heirs? And why do the maps appear to be drawn by Lord Antoni, Elias's father, who vanished on that same fateful day? With the king's beautiful cousin by his side—whether he wants her there or not—Elias will race to solve the riddle of the princes. He will have to use his wits and guard his back. Because some truths are better left buried…and an unknown enemy stalks his every turn.
Date added to shelf:  January 10, 2018
The judgement:  Not a keeper.
---
Book 2: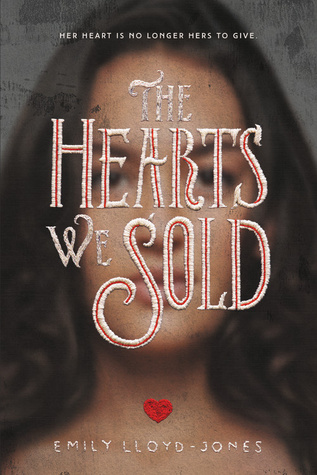 When Dee Moreno makes a deal with a demon—her heart in exchange for an escape from a disastrous home life—she finds the trade may have been more than she bargained for. And becoming "heartless" is only the beginning. What lies ahead is a nightmare far bigger, far more monstrous than anything she could have ever imagined.
With reality turned on its head, Dee has only a group of other deal-making teens to keep her grounded, including the charming but secretive James Lancer. And as something grows between them amid an otherworldy ordeal, Dee begins to wonder: Can she give someone her heart when it's no longer hers to give?
Date added to shelf:  January 11, 2018
The judgement:  Not a keeper.
---
Book 3:
Descended of the legendary sons of MacAlpin, Iain MacKinnon refuses to bow to the English. When his young son is captured by a minion of the English king, the fierce Scottish chieftain vows to stop at nothing to secure the lad's return. Retaliating in kind, he captures the daughter of his enemy, planning to bargain with the devil.
FitzSimon's daughter has lived her entire life in the shadow of the man she called father–yet never would she have imagined he would forsake his only daughter. Even as Page blames her captor for welching on a contract with her father, she suspects the truth. But the shadows hold secrets … now only the love of her reluctant champion can save the MacKinnon's Bride.
Date added to shelf:  January 11, 2018
The judgement:  Not a keeper.
---
Book 4:
Scotland, 1125, the Legend Begins … For two centuries, Aidan dun Scoti's kinsmen have guarded Scotland's greatest secret, the real Stone of Destiny. Now King David seeks an alliance with the mountain Scot. But only one woman will tempt him–the accursed beauty whose father once betrayed his clan … Tempted by Revenge Cursed by Aidan's people for the sins of her father, Lileas MacLaren is the one woman Aidan believes he is immune to … she is also the one woman who may bring the fierce chieftain to his knees. Rich with history and lore, HIGHLAND FIRE brings back favorite characters from The Highland Brides and introduces you to new ones."
Date added to shelf:  January 11, 2018
The judgement:  Not a keeper.
---
Book 5:
Serafina, daughter of Isabella, Queen of Miromara, has been raised with the expectation – and burden – that she will someday become ruler of the oldest civilization of the merfolk. On the eve of the Dokimí ceremony, which will determine if she is worthy of the crown, Sera is haunted by a strange dream that foretells the return of an ancient evil. But her nightmare is forgotten the next day as she diligently practices her songspell; eagerly anticipates a reunion with her best friend, Neela; and anxiously worries about Mahdi, the crown prince of Matali, and whether his feelings toward her and their future betrothal have changed. Most of all, she worries about not living up to her mother's hopes.
The Dokimí proceeds, a dazzling display of majesty and might, until a shocking turn of events interrupts it: an assassin's arrow wounds Isabella. The realm falls into chaos, and Serafina's darkest premonitions are confirmed. Now she and Neela must embark on a quest to find the assassin's master and prevent a war between the mer nations. Their search will lead them to other mermaid heriones scattered across the six seas. Together they will form an unbreakable bond of sisterhood as they uncover a conspiracy that threatens their world's very existence.
Date added to shelf:  January 11, 2018
The judgement:  Keep.
---
I only kept one this week.
Have you read any of these?
What did you think?