Good morning!  Welcome to WWW Wednesday! This meme is hosted by Sam @ Taking On A World of Words.  If you would like to participate, just answer the three questions below.  Then if you have a chance, visit his blog and leave a comment with a link to your WWW.
The Three Ws are:
What are you currently reading?
What did you recently finish reading?
What do you think you'll read next?
---
What are you currently reading?
San Francisco. Summer, 1947. A dame walks into a saloon . . .

It's not every afternoon that an enigmatic, comely blonde named Stilton (like the cheese) walks into the scruffy gin joint where Sammy "Two Toes" Tiffin tends bar. It's love at first sight, but before Sammy can make his move, an Air Force general named Remy arrives with some urgent business. 'Cause when you need something done, Sammy is the guy to go to; he's got the connections on the street.
Meanwhile, a suspicious flying object has been spotted up the Pacific coast in Washington State near Mount Rainer, followed by a mysterious plane crash in a distant patch of desert in New Mexico that goes by the name Roswell. But the real weirdness is happening on the streets of the City by the Bay.
When one of Sammy's schemes goes south and the Cheese mysteriously vanishes, Sammy is forced to contend with his own dark secrets—and more than a few strange goings on—if he wants to find his girl.
---
What did you recently finish reading?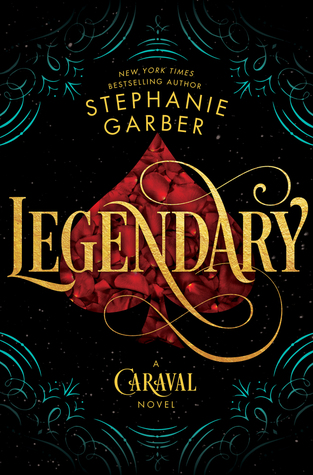 A heart to protect. A debt to repay. A game to win.
After being swept up in the magical world of Caraval, Donatella Dragna has finally escaped her father and saved her sister Scarlett from a disastrous arranged marriage. The girls should be celebrating, but Tella isn't yet free. She made a desperate bargain with a mysterious criminal, and what Tella owes him no one has ever been able to deliver: Caraval Master Legend's true name.
The only chance of uncovering Legend's identity is to win Caraval, so Tella throws herself into the legendary competition once more—and into the path of the murderous heir to the throne, a doomed love story, and a web of secrets…including her sister's. Caraval has always demanded bravery, cunning, and sacrifice. But now the game is asking for more. If Tella can't fulfill her bargain and deliver Legend's name, she'll lose everything she cares about—maybe even her life. But if she wins, Legend and Caraval will be destroyed forever.
Welcome, welcome to Caraval…the games have only just begun.
---
What do you think you'll read next?
Ever since Fern could remember, she and her mother have lived as servants in Wyndemere House, the old Gothic mansion of the Davenport family. She may have been a servant, but Fern developed a sweet friendship with Dr. Davenport's son, Ryder, and she was even allowed free range of the estate.
But Dr. Davenport has remarried and his new wife has very different ideas about a servant's place. Now Fern and her mother are subject to cruel punishments, harsh conditions, and aren't even allowed to use the front door.
Yet, for all her wrath, the cruel woman cannot break the mysterious bond between Ryder and Fern. And when Ryder invites Fern to join his friends at prom, there's nothing Mrs. Davenport can do to stop them nor can she continue to guard the secret that haunts the women of Wyndemere—but there's nothing she won't try.
After all, reputation is everything.
---
What do you think? 
Would you read any of these?
Let me know in the comments.