Good Morning!  Thank you for stopping by to check out my TBR #18.  Hope you all have a wonderful weekend planned.  As always, let me know if you have read any of these.  I'd love to hear your thoughts!
This is Down the TBR Hole from Lost in a Story and I snagged it from Howling Libraries.
It works like this:
Go to your goodreads to-read shelf.
Order on ascending date added.
Take the first 5 (or 10 if you're feeling adventurous) books
Read the synopses of the books
Decide: keep it or should it go?
Keep track of where you left off so you can pick up there next week!
Current "to-read" shelf:    154 titles
---
Book 1:
Seven years ago, the Atargatis set off on a voyage to the Mariana Trench to film a "mockumentary" bringing to life ancient sea creatures of legend. It was lost at sea with all hands. Some have called it a hoax; others have called it a maritime tragedy.
Now, a new crew has been assembled. But this time they're not out to entertain. Some seek to validate their life's work. Some seek the greatest hunt of all. Some seek the truth. But for the ambitious young scientist Victoria Stewart this is a voyage to uncover the fate of the sister she lost.
Whatever the truth may be, it will only be found below the waves. But the secrets of the deep come with a price.
Date added to shelf:  January 11, 2018
The judgement:  Not a keeper.
---
Book 2:
Yara Jones doesn't believe in sea monsters–until she becomes one.
When a hurricane hits her island home and she wakes up with fins, Yara finds herself tangled up in an underwater world of mysterious merfolk and secretive selkies. Both sides believe Yara can save them by fulfilling a broken promise and opening the sealed gateway to their realm, but they are battling over how it should be done. The selkies want to take her life. The merfolk want something far more precious.
Treygan, the stormy-eyed merman who turned Yara mer, will stop at nothing and sacrifice everything to protect his people–until he falls for Yara. The tides turn as Yara fights to save herself, hundreds of sea creatures, and the merman who has her heart. She could lose her soul in the process–or she might open the gateway to a love that's deeper than the oceans.
Date added to shelf:  January 11, 2018
The judgement:  Keep.
---
Book 3:
In this stunning bridge book between Cress and Winter in the bestselling Lunar Chronicles, Queen Levana's story is finally told.
Mirror, mirror on the wall,
Who is the fairest of them all?
Fans of the Lunar Chronicles know Queen Levana as a ruler who uses her "glamour" to gain power. But long before she crossed paths with Cinder, Scarlet, and Cress, Levana lived a very different story – a story that has never been told . . . until now.
Marissa Meyer spins yet another unforgettable tale about love and war, deceit and death. This extraordinary book includes full-color art and an excerpt from Winter, the next book in the Lunar Chronicles series.
Date added to shelf:  January 11, 2018
The judgement:  Keep.
---
Book 4:
Sookie Stackhouse is just a small-time cocktail waitress in small-town Louisiana. Until the vampire of her dreams walks into her life-and one of her coworkers checks out….
Maybe having a vampire for a boyfriend isn't such a bright idea.
Date added to shelf:  January 12, 2018
The judgement:  Keep – for now.
---
Book 5: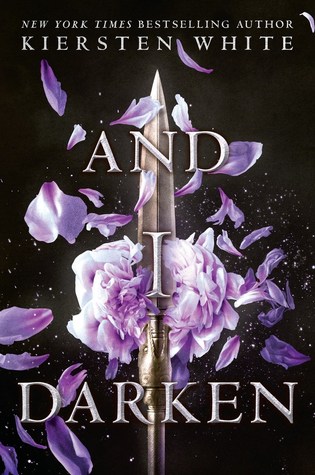 No one expects a princess to be brutal. And Lada Dragwlya likes it that way. Ever since she and her gentle younger brother, Radu, were wrenched from their homeland of Wallachia and abandoned by their father to be raised in the Ottoman courts, Lada has known that being ruthless is the key to survival. She and Radu are doomed to act as pawns in a vicious game, an unseen sword hovering over their every move. For the lineage that makes them special also makes them targets.
Lada despises the Ottomans and bides her time, planning her vengeance for the day when she can return to Wallachia and claim her birthright. Radu longs only for a place where he feels safe. And when they meet Mehmed, the defiant and lonely son of the sultan, Radu feels that he's made a true friend—and Lada wonders if she's finally found someone worthy of her passion.
But Mehmed is heir to the very empire that Lada has sworn to fight against—and that Radu now considers home. Together, Lada, Radu, and Mehmed form a toxic triangle that strains the bonds of love and loyalty to the breaking point.
Date added to shelf:  January 12, 2018
The judgement:  Keep.
---
I only lost one this week.
Have you read any of these?
What did you think?