Good Afternoon!  Thank you for stopping by to check out my TBR #19.  Hope you all have a wonderful weekend planned.  As always, let me know if you have read any of these.  I'd love to hear your thoughts!
This is Down the TBR Hole from Lost in a Story and I snagged it from Howling Libraries.
It works like this:
Go to your goodreads to-read shelf.
Order on ascending date added.
Take the first 5 (or 10 if you're feeling adventurous) books
Read the synopses of the books
Decide: keep it or should it go?
Keep track of where you left off so you can pick up there next week!
Current "to-read" shelf:    160 titles
---
Book 1: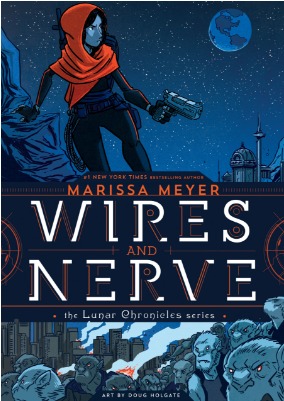 When rogue packs of wolf-hybrid soldiers threaten the tenuous peace alliance between Earth and Luna, Iko takes it upon herself to hunt down the soldiers' leader. She is soon working with a handsome royal guard who forces her to question everything she knows about love, loyalty, and her own humanity. With appearances by Cinder and the rest of the Rampion crew, this is a must-have for fans of the series.
Date added to shelf:  January 13, 2018
The judgement:  Keep.
---
Book 2:
London, April 1812. On the eve of eighteen-year-old Lady Helen Wrexhall's presentation to the queen, one of her family's housemaids disappears-and Helen is drawn into the shadows of Regency London. There, she meets Lord Carlston, one of the few who can stop the perpetrators: a cabal of demons infiltrating every level of society. Dare she ask for his help, when his reputation is almost as black as his lingering eyes? And will her intelligence and headstrong curiosity wind up leading them into a death trap?
Date added to shelf:  January 15, 2018
The judgement:  Keep.
---
Book 3:
Imagine a time when the gods turn a blind eye to the agony of men, when the last of the hellions roam the plains and evil stirs beyond the edges of the map. A time when cities burn, and in their ashes, empires rise.
Alexander, Macedonia's sixteen-year-old heir, is on the brink of discovering his fated role in conquering the known world but finds himself drawn to a newcomer…
Katerina must navigate the dark secrets of court life while hiding her own mission: kill the Queen. But she doesn't account for her first love…
Jacob will go to unthinkable lengths to win Katerina, even if it means having to compete for her heart with Hephaestion, a murderer sheltered by the prince.
And far across the sea, Zofia, a Persian princess and Alexander's unmet betrothed, wants to alter her destiny by seeking the famed and deadly Spirit Eaters.
Weaving fantasy with the shocking details of real history, New York Times bestselling author of Sex with Kings Eleanor Herman reimagines the greatest emperor the world has ever known, Alexander the Great, in the first book of the Blood of Gods and Royals series.
Date added to shelf:  January 15, 2018
The judgement:  Not a keeper.
---
Book 4:
Seventeen year-old Britta Flannery is at ease only in the woods with her dagger and bow. She spends her days tracking criminals alongside her father, a legendary bounty hunter that is, until her father is murdered. The alleged killer is none other than Cohen Mackay, her father's former apprentice. The only friend she's ever known. The boy she once loved who broke her heart. She must go on a dangerous quest in a world of warring kingdoms, mad kings, and dark magic to find the real killer. But Britta wields more power than she knows. And soon she will learn that what has always made her different will make her a force to be reckoned with.
Date added to shelf:  January 17, 2018
The judgement:  Keep.
---
Book 5:
"People always ask me about life after childhood stardom. What would I say to parents of children in the industry? My only advice, honestly, is to get these kids out of Hollywood and let them lead normal lives." —Corey Feldman

A deeply personal and revealing Hollywood-survival story.
Lovable child star by age ten, international teen idol by fifteen, and to this day a perennial pop-culture staple, Corey Feldman has not only spent the entirety of his life in the spotlight, he's become just as famous for his off-screen exploits as for his roles in such classic films as Gremlins, The Goonies, and Stand by Me. He's been linked to a slew of Hollywood starlets (including Drew Barrymore, Vanessa Marcil, and adult entertainer Ginger Lynn), shared a highly publicized friendship with Michael Jackson, and with his frequent costar Corey Haim enjoyed immeasurable success as one half of the wildly popular duo "The Two Coreys," spawning seven films, a 1-900 number, and "Coreymania" in the process. What child of the eighties didn't have a Corey Feldman poster hanging in her bedroom, or a pile of Tiger Beats stashed in his closet?
Now, in this brave and moving memoir, Corey is revealing the truth about what his life was like behind the scenes: His is a past that included physical, drug, and sexual abuse, a dysfunctional family from which he was emancipated at age fifteen, three high-profile arrests for drug possession, a nine-month stint in rehab, and a long, slow crawl back to the top of the box office.
While Corey has managed to overcome the traps that ensnared so many other entertainers of his generation—he's still acting, is a touring musician, and is a proud father to his son, Zen—many of those closest to him haven't been so lucky. In the span of one year, he mourned the passing of seven friends and family members, including Corey Haim and Michael Jackson. In the wake of those tragedies, he's spoken publicly about the dark side of fame, lobbied for legislation affording greater protections for children in the entertainment industry, and lifted the lid off of what he calls Hollywood's biggest secret.
Coreyography is his surprising account of survival and redemption.
Date added to shelf:  January 20, 2018
The judgement:  Keep.
---
Have you read any of these?
What did you think?