Welcome to WWW Wednesday! This meme is hosted by Sam @ Taking On A World of Words.  If you would like to participate, just answer the three questions below.  Then if you have a chance, visit his blog and leave a comment with a link to your WWW.
The Three Ws are:
What are you currently reading?
What did you recently finish reading?
What do you think you'll read next?
---
What are you currently reading?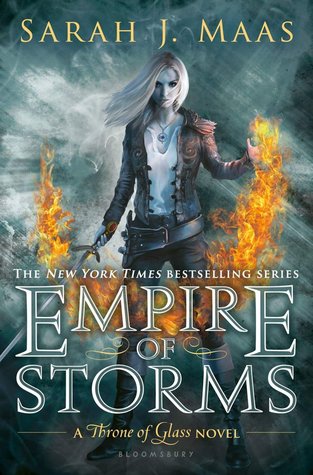 The long path to the throne has only just begun for Aelin Galathynius as war looms on the horizon. Loyalties have been broken and bought, friends have been lost and gained, and those who possess magic find themselves at odds with those who don't.
With her heart sworn to the warrior-prince by her side, and her fealty pledged to the people she is determined to save, Aelin will delve into the depths of her power to protect those she loves. But as monsters emerge from the horrors of the past, and dark forces become poised to claim her world, the only chance for salvation will lie in a desperate quest that may mark the end of everything Aelin holds dear.
In this breathtaking fifth installment of the New York Timesbestselling Throne of Glass series, Aelin will have to choose what—and who—to sacrifice if she's to keep the world of Erilea from breaking apart.
---
What did you recently finish reading?
Who let the dogs…and cats…out?
Verity Long's new ghost hunting career has gone to the dogs, literally. A spirit is releasing animals from their cages at the Sugarland Animal Rescue Center. It's an unusual haunting that gets even more bizarre when she uncovers a new clue in a case of a missing child. Verity vows to reunite the lost boy with his family. And when she does, Verity just might answer the age-old question: Do all dogs go to heaven?
---
What do you think you'll read next?
Between the fast-paced New York City, a rural Mississippi town, and a charming Pennsylvania college campus filled with secrets, two young girls learn the consequences of growing up too quickly. Struggling to survive in a claustrophobic, unforgiving world, they embark on a journey to overcome all the pain, disappointment, and horror of their experiences.
Amalia Graeme, abused by her mother for most of her life, longs to escape her desolate hometown, connect with others, and fall in love. Contemplating an impending loss of innocence and conflicting feelings between her boyfriend and the dangerous attraction she's developed for an older man, Amalia suffers devastating, life-altering tragedies. No matter where she turns, someone or something always steals her hope of finding happiness, protection, and love.
Brianna Porter, a sassy yet angst-ridden teenager raised in New York City, yearns to determine her life's true purpose, conquer her fear of abandonment, and interpret an intimidating desire for her best friend, Shanelle. All the confusion stems from desperately needing to find the father whom her mother refuses to reveal, but an unexpected discovery of a journal leads Brianna to a shocking revelation about her missing parent. Unfortunately, by casting the net to find him, she's unleashed a tragic history that was meant to stay buried and might now completely change everyone's futures.
Through alternating chapters set two decades apart, each girl's plight unfolds revealing the parallels between their lives and the subsequent collision that is bound to happen. In an emotional story filled with mystery, romance, and suspense, fate intervenes forcing someone to make a dreadful decision that will leave permanent scars.
---
What do you think? 
Have you read any of these?
Let me know in the comments.