Good Morning!  Thank you for stopping by to check out my TBR #20.  Hope you all have a wonderful weekend planned.  As always, let me know if you have read any of these.  I'd love to hear your thoughts!
This is Down the TBR Hole from Lost in a Story and I snagged it from Howling Libraries.
It works like this:
Go to your goodreads to-read shelf.
Order on ascending date added.
Take the first 5 (or 10 if you're feeling adventurous) books
Read the synopses of the books
Decide: keep it or should it go?
Keep track of where you left off so you can pick up there next week!
Current "to-read" shelf:    172 titles
---
Book 1:
More than a century ago, a school was constructed in Fort Worth, Texas, for the purpose of housing and educating the orphans of Texas Freemasons. It was a humble project that for years existed quietly on a hillside east of town. Life at the Masonic Home was about to change, though, with the arrival of a lean, bespectacled coach by the name of Rusty Russell. Here was a man who could bring rain in the midst of a drought. Here was a man who, in virtually no time at all, brought the orphans' story into the homes of millions of Americans.
In the 1930s and 1940s, there was nothing bigger in Texas high school football than the Masonic Home Mighty Mites–a group of orphans bound together by hardship and death. These youngsters, in spite of being outweighed by at least thirty pounds per man, were the toughest football team around. They began with nothing–not even a football–yet in a few years were playing for the state championship on the highest level of Texas football. This is a winning tribute to a courageous band of underdogs from a time when America desperately needed fresh hope and big dreams.
The Mighty Mites remain a notable moment in the long history of American sports. Just as significant is the depth of the inspirational message. This is a profound lesson in fighting back and clinging to faith. The real winners in Texas high school football were not the kids from the biggest schools, or the ones wearing the most expensive uniforms. They were the scrawny kids from a tiny orphanage who wore scarred helmets and faded jerseys that did not match, kids coached by a devoted man who lived on peanuts and drove them around in a smoke-belching old truck.
Date added to shelf:  January 20, 2018
The judgement:  Keep.
---
Book 2:
The Little Android is a retelling of The Little Mermaid, set in the world of The Lunar Chronicles by New York Times-bestselling author Marissa Meyer.
When android Mech6.0 saves the life of a handsome hardware engineer, her body is destroyed and her mechanics discover a glitch in her programming. Androids aren't meant to develop impractical reasoning or near-emotional responses…let alone fall in love.
Date added to shelf:  January 13, 2018
The judgement:  Keep.
---
Book 3:
Queen Coriane, first wife of King Tiberias, keeps a secret diary—how else can she ensure that no one at the palace will use her thoughts against her? Coriane recounts her heady courtship with the crown prince, the birth of a new prince, Cal, and the potentially deadly challenges that lay ahead for her in royal life.
Date added to shelf:  January 20, 2018
The judgement:  Not a keeper.
---
Book 4:
In the short story below,  Erika Johansen transports readers to a time before the invasion of Mort. She spins a tale of one physically strong, but emotionally vulnerable boy who's ultimately destined for greatness.
Date added to shelf:  January 20, 2018
The judgement:  Keep.
---
Book 5: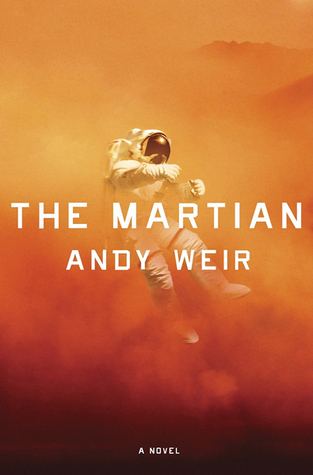 Six days ago, astronaut Mark Watney became one of the first people to walk on Mars.
Now, he's sure he'll be the first person to die there.
After a dust storm nearly kills him and forces his crew to evacuate while thinking him dead, Mark finds himself stranded and completely alone with no way to even signal Earth that he's alive—and even if he could get word out, his supplies would be gone long before a rescue could arrive.
Chances are, though, he won't have time to starve to death. The damaged machinery, unforgiving environment, or plain-old "human error" are much more likely to kill him first.
But Mark isn't ready to give up yet. Drawing on his ingenuity, his engineering skills — and a relentless, dogged refusal to quit — he steadfastly confronts one seemingly insurmountable obstacle after the next. Will his resourcefulness be enough to overcome the impossible odds against him?
Date added to shelf:  January 20, 2018
The judgement:  Not a keeper. Sounds interesting but I don't think I will really ever get around to reading it.
---
Have you read any of these?
What did you think?