Welcome to WWW Wednesday! This meme is hosted by Sam @ Taking On A World of Words.  If you would like to participate, just answer the three questions below.  Then if you have a chance, visit his blog and leave a comment with a link to your WWW.
The Three Ws are:
What are you currently reading?
What did you recently finish reading?
What do you think you'll read next?
---
What are you currently reading?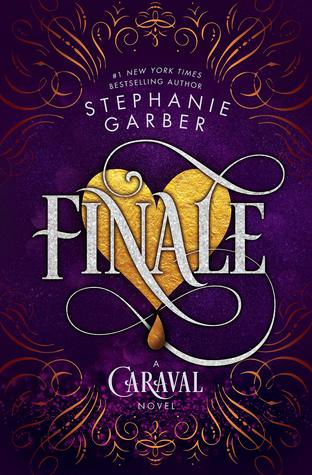 Welcome, welcome to Finale, the third and final book in Stephanie Garber's #1 New York Times bestselling Caraval series! 
A love worth fighting for. A dream worth dying for. An ending worth waiting for.
It's been two months since the Fates were freed from a deck of cards, two months since Legend claimed the throne for his own, and two months since Tella discovered the boy she fell in love with doesn't really exist.
With lives, empires, and hearts hanging in the balance, Tella must decide if she's going to trust Legend or a former enemy. After uncovering a secret that upends her life, Scarlett will need to do the impossible. And Legend has a choice to make that will forever change and define him.
Caraval is over, but perhaps the greatest game of all has begun. There are no spectators this time: only those who will win, and those who will lose everything.
Welcome, welcome to Finale. All games must come to an end…
---
What did you recently finish reading?
The start of a fierce fantasy duology about three maidens who are chosen for their land's greatest honor…and one girl determined to save her sister from the grave.
In the walled city-state of Alu, Kammani wants nothing more than to become the accomplished healer her father used to be before her family was cast out of their privileged life in shame.
When Alu's ruler falls deathly ill, Kammani's beautiful little sister, Nanaea, is chosen as one of three sacred maidens to join him in the afterlife. It's an honor. A tradition. And Nanaea believes it is her chance to live an even grander life than the one that was stolen from her.
But Kammani sees the selection for what it really is—a death sentence.
Desperate to save her sister, Kammani schemes her way into the palace to heal the ruler. There she discovers more danger lurking in the sand-stone corridors than she could have ever imagined and that her own life—and heart—are at stake. But Kammani will stop at nothing to dig up the palace's buried secrets even if it means sacrificing everything…including herself.
---
What do you think you'll read next?
In a small New England town, in the early 60s, a shadow falls over a small boy playing with his toy soldiers. Jamie Morton looks up to see a striking man, the new minister. Charles Jacobs, along with his beautiful wife, will transform the local church. The men and boys are all a bit in love with Mrs Jacobs; the women and girls – including Jamie's mother and beloved sister – feel the same about Reverend Jacobs. With Jamie, the Reverend shares a deeper bond, based on their fascination with simple experiments in electricity.
Then tragedy strikes the Jacobs family; the preacher curses God, mocking all religious belief, and is banished from the shocked town.
Jamie has demons of his own. In his mid-thirties, he is living a nomadic lifestyle of bar-band rock and roll. Addicted to heroin, stranded, desperate, he sees Jacobs again – a showman on stage, creating dazzling 'portraits in lightning' – and their meeting has profound consequences for both men. Their bond becomes a pact beyond even the Devil's devising, and Jamie discovers that revival has many meanings. Because for every cure there is a price…
This rich and disturbing novel spans five decades on its way to the most terrifying conclusion Stephen King has ever written. It's a masterpiece from King, in the great American tradition of Nathaniel Hawthorne and Edgar Allan Poe.
---
What about you?
What is your WWW?