Good morning and welcome to WWW Wednesday! This meme is hosted by Sam @ Taking On A World of Words.  Just answer the three questions below and if you have a chance visit his blog and leave a comment with a link to your WWW.
The Three Ws are:
What are you currently reading?
What did you recently finish reading?
What do you think you'll read next?
---
What are you currently reading?
The Night Circus by Erin Morgenstern
The circus arrives without warning. No announcements precede it. It is simply there, when yesterday it was not. Within the black-and-white striped canvas tents is an utterly unique experience full of breathtaking amazements. It is called Le Cirque des Rêves, and it is only open at night.
But behind the scenes, a fierce competition is underway – a duel between two young magicians, Celia and Marco, who have been trained since childhood expressly for this purpose by their mercurial instructors. Unbeknownst to them, this is a game in which only one can be left standing, and the circus is but the stage for a remarkable battle of imagination and will. Despite themselves, however, Celia and Marco tumble headfirst into love – a deep, magical love that makes the lights flicker and the room grow warm whenever they so much as brush hands.
True love or not, the game must play out, and the fates of everyone involved, from the cast of extraordinary circus per­formers to the patrons, hang in the balance, suspended as precariously as the daring acrobats overhead.
Written in rich, seductive prose, this spell-casting novel is a feast for the senses and the heart.
~~~~Review Coming 2/18/18~~~~
---
What did you recently finish reading?
Shimmer and Burn by Mary Taranta
To save her sister's life, Faris must smuggle magic into a plague-ridden neighboring kingdom in this exciting and dangerous start to a brand-new fantasy duology.
Faris grew up fighting to survive in the slums of Brindaigel while caring for her sister, Cadence. But when Cadence is caught trying to flee the kingdom and is sold into slavery, Faris reluctantly agrees to a lucrative scheme to buy her back, inadvertently binding herself to the power-hungry Princess Bryn, who wants to steal her father's throne.
Now Faris must smuggle stolen magic into neighboring Avinea to incite its prince to alliance—magic that addicts in the war-torn country can sense in her blood and can steal with a touch. She and Bryn turn to a handsome traveling magician, North, who offers protection from Avinea's many dangers, but he cannot save Faris from Bryn's cruelty as she leverages Cadence's freedom to force Faris to do anything—or kill anyone—she asks. Yet Faris is as fierce as Bryn, and even as she finds herself falling for North, she develops schemes of her own.
With the fate of kingdoms at stake, Faris, Bryn, and North maneuver through a dangerous game of magical and political machinations, where lives can be destroyed—or saved—with only a touch.
~~~~Review Coming 2/9/18~~~~
---
What do you think you'll read next?
Unquiet Dead by Chris Pavesic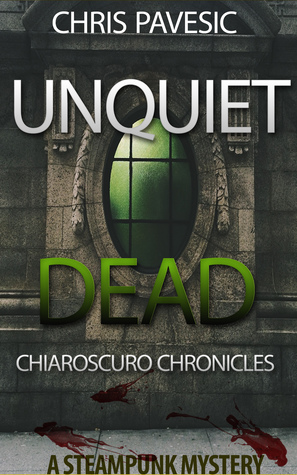 In Chiaroscuro it's important to keep the faith.
When the Temples north of Chiaroscuro are burned and followers of the Sun Goddess are murdered, Catherine, a bard of the Ealdoth Temple, sets out to find those responsible and to bring them to justice. With only the help of a traveling group of minstrels and a retired fae investigator, Catherine must solve the mystery before more people are killed.
So saddle up your clockwork mount, buckle on your electro-dagger, and join Catherine as she finds herself pitted against members of her own Temple, rogue members of the Seelie Court, and a seemingly unstoppable army of undead.
~~~~Review Coming Soon~~~~
---
Do these books look interesting to you?  
Have you already read them?  If so, let me know in the comments.