Welcome to WWW Wednesday! This meme is hosted by Sam @ Taking On A World of Words.  If you would like to participate, just answer the three questions below.  Then if you have a chance, visit his blog and leave a comment with a link to your WWW.
The Three Ws are:
What are you currently reading?
What did you recently finish reading?
What do you think you'll read next?
---
What are you currently reading?
Death and Night
He was Lord of Death, cursed never to love. She was Night incarnate, destined to stay alone. After a chance meeting, they wonder if, perhaps, they could be meant for more. But danger crouches in their paths, and the choices they make will set them on a journey that will span lifetimes.
Poison and Gold
Now that her wish for a choice has come true, Aasha struggles to control her powers. But when an opportunity to help Queen Gauri and King Vikram's new reign presents itself, she is thrown into the path of the fearsome yet enchanting Spy Mistress. To help her friends, Aasha will have to battle her insecurities and perhaps, along the way, find love.
Rose and Sword
There is a tale whispered in the dark of the Empire of Bharat-Jain. A tale of a bride who loses her bridegroom on the eve of her wedding. But is it a tale or a truth?
---
What did you recently finish reading?
Pinkerton Detective Abigail MacKay is a master of disguises—and of new crime-solving technology! But she'll have to move fast to stay a step ahead of Nat Quinn and Jake Conroy.
Nat and Jake are the ringleaders of The Innocents, a western gang that specializes in holding up trains carrying payrolls—and Nat is pretty savvy when it comes to using the new sciences of 1868 in committing his crimes.
Charismatic Nat and handsome Jake are on the run, and they've always gotten away before—before Abi. But when Abi is caught by another band of outlaws during the chase, there's no other choice for Nat and Jake but to save her life. Abi owes them, and she agrees to help them bring in the murderer of a family friend.
The web of criminal activity grows more entangled with each passing day, but Nat, Jake, and Abi are united in their efforts to find the murderer. Once that happens, all bets are off, and Abi will be turning Nat and Jake over to the law. But can she do it? She finds herself falling for Nat, but is that growing attraction real? Or is he just using her to learn more about the Pinkertons' methods? Abi always gets her man—but she may have met her match in her "best enemies"—THE INNOCENTS.
---
What do you think you'll read next?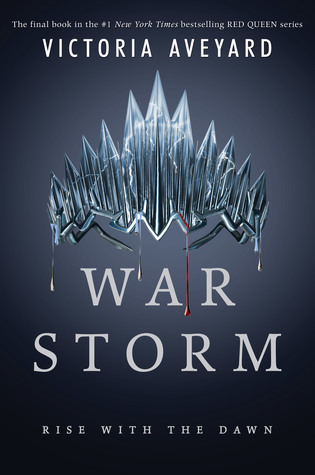 Mare Barrow learned this all too well when Cal's betrayal nearly destroyed her. Now determined to protect her heart—and secure freedom for Reds and newbloods like her—Mare resolves to overthrow the kingdom of Norta once and for all… starting with the crown on Maven's head.
But no battle is won alone, and before the Reds may rise as one, Mare must side with the boy who broke her heart in order to defeat the boy who almost broke her. Cal's powerful Silver allies, alongside Mare and the Scarlet Guard, prove a formidable force. But Maven is driven by an obsession so deep, he will stop at nothing to have Mare as his own again, even if it means demolishing everything—and everyone—in his path.
War is coming, and all Mare has fought for hangs in the balance. Will victory be enough to topple the Silver kingdoms? Or will the little lightning girl be forever silenced?
In the epic conclusion to Victoria Aveyard's stunning series, Mare must embrace her fate and summon all her power… for all will be tested, but not all will survive.
---
What do you think? 
Have you read any of these?
Let me know in the comments.
Don't forget to enter the 1st ever Plot Monster Writing Contest!
Enter 8/1/18 – 8/31/18